Tired of normal pod system and vape mod kit? Looking for a device that can be easily held in hand but possess strong taste as normal mods? Or want a new method to fill with e-juice instead of side fill? The OneVape Mace can meet all your needs. Just buy from the vapesourcing online shop if you like them.
OneVape Mace Kit comes in two versions of 55 and 70. Powered by a built-in 1500mAh battery, the Mace 55 can fire up to 55W and supports three levels of output (2.7V/3V/3.3V). While the Mace 70 is powered by an internal 2500mAh cell, so it can fire up to 70W and allows for five levels of output (2.4V/2.7V/3V/3.3V/3.7V). To change the output voltage of both kits, you just need simply click the fire button three times. And the LED light surrounding the fire button will light up different colors according to different voltages.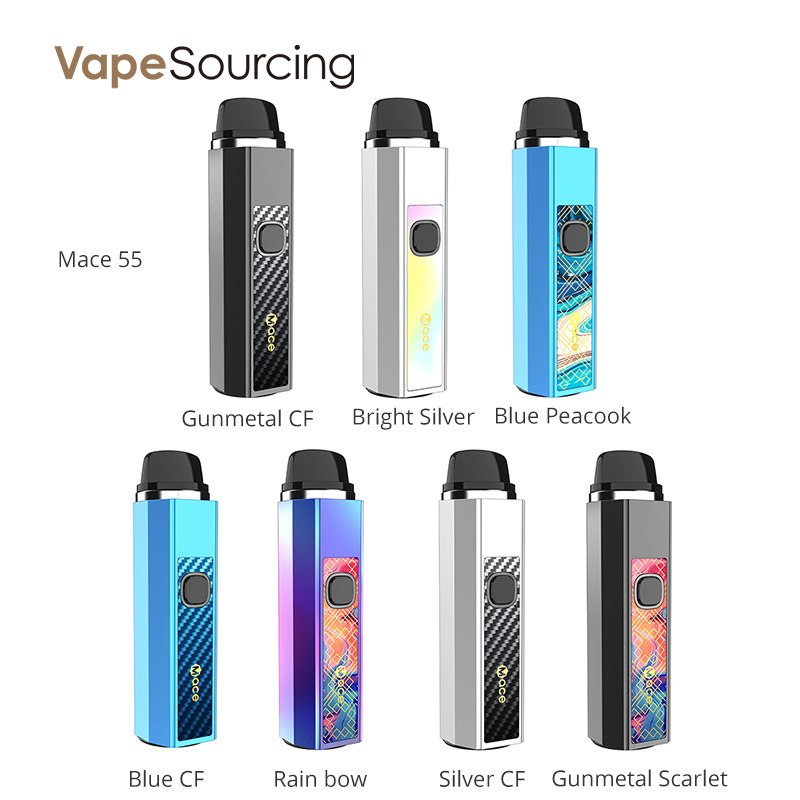 As for the pods of Mace 55 and 70, they can store up to 3.5ml of e-liquid and can be easily refilled via a top filling structure. Normally, these pods are hidden in the mods but when replacing coils you have to take them out since the coils are replaced via the bottom. Speaking of coils, these pods have four Mace coil options which include 0.2ohm TM Coil, 0.3ohm DM Coil, o.6ohm M Coil and RBA Coil (supports resistance from 0.2-2.5ohm). Moreover, the airflow is adjustable via the ring on the bottom of these coils, amazing! All in all, the OneVape Mace Kits are literally omnipotent devices for all types of vaping!
You may also like: rpm40 kit near me
Parameters as below
Material: Aluminium Alloy + PCTG
Pod Capacity: 3.5ml
Mace55
Dimensions: 26 x 28 x 102mm
Power Range: 3.3/3/2.7V
Max Power: 55W
Battery: Built-in 1500 mAh
Charge: Type-C, 5V1A fully charged within 1.5h
Mace70
Dimensions: 26 x 28 x 117mm
Power Range: 3.7/3.3/3/2.7/2.4V
Max Power: 70W
Battery: Built-in 2500 mAh
Charge: Type-C, 5V1A fully charged within 2.5h
Related blog: Vaporesso Degree Pod Cartridge on Hot Sale in Vapesourcing