When it comes to Geekvape, one word comes to mind: durability. Their IP67 rated devices like the Aegis Legend, Aegis Solo, Aegis Squonk and Aegis Boost are some of the toughest around. And they're not only tough, they're also some of the best performing devices that you can get. The Geekvape Aegis Pod is their latest IP67 rated device. Whereas the Aegis Boost is larger and perhaps more complicated than a beginner vaper might like, the Aegis Pod is Geekvape's first simple and compact pod device.
The Geekvape Aegis Pod is a compact pod system with one button. As expected, the Aegis Pod is very nicely built. It's solid, has no button rattle, and feels of very high quality overall. As usual, the leather feels and looks great. There is no screen or anything, just one button and an LED in the center to let you know the battery capacity. It is button activated only (no auto-draw), and works like most mods with five clicks of the fire button to turn on and off. It is very slim and small, and its form factor makes a great vape to carry around in a pocket. It's listed at 73 grams and it is 17.7 mm thick. The device boasts a long-lasting built-in 800 mAh battery with a USB-C connection with fast charging.
The pod has a 3.5ml vape juice capacity and comes with two 0.6ohm coils that are good for both regular nicotine e juice and nicotine salts. The coils get replaced inside the pod with a standard plug and play style. It can be filled through a standard rubber plug on the bottom and attaches to the device via a magnet. The flavor I get is really good so far, but what's going to make or break it is the life of the coils.
Overall, the Aegis Pod is a great small portable beginner DL pod set up and it looks like a worthy addition to the Aegis line. It's time to add the smart vape kit to your wish list now.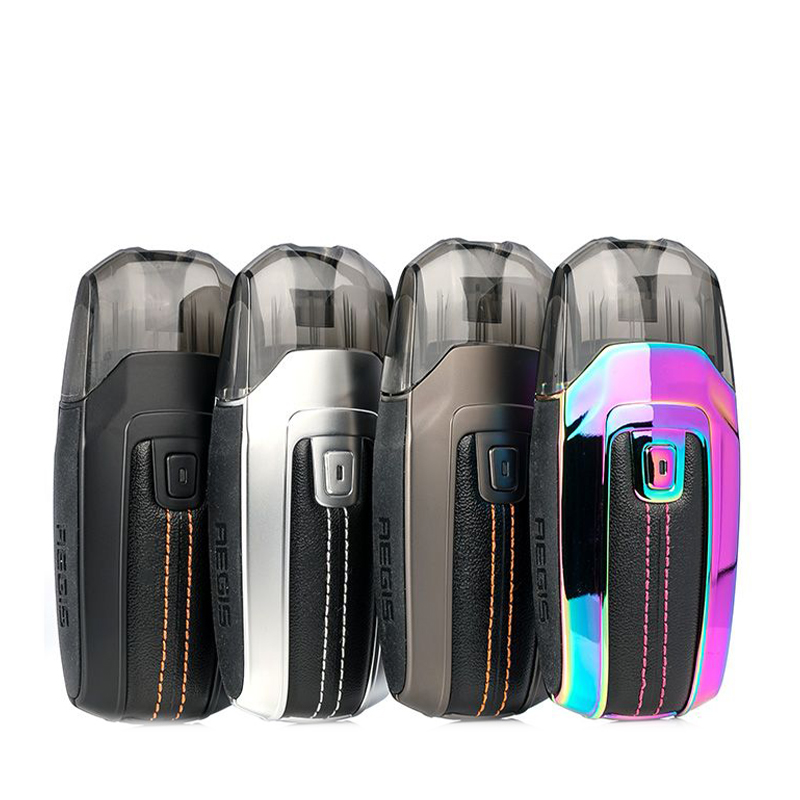 Parameters
Dimension: 88.1*40.3*18mm
Battery capacity: 800mAh
Power range: Constant power output MAX18W
Resistance range: 0.4Ω-3Ω
E-liquid capacity: 3.5ml
Charger specification: Type-C 5V/1.5A
(The device's temperature is less than 45 °C when charging)
LED light: Green, blue, red
Battery indicator: Green light: 70~100%, red light: 0~69%
Shell material: Plastic + silicone + leather + zinc alloy
Colors: Beetle Black / Gunmetal / Silver Chafer / Tamamushi
You may also want
vaporesso luxe 2
vaporesso xiron kit