Geekvape Aegis Legend Limited Edition is the latest version of Geekvape Aegis Legend. This Limited Edition is also waterproof/dustproof/shockproof and has many safety features. The kit includes the latest Zeus Sub Ohm Tank with mesh coils and adjustable airflow at the top.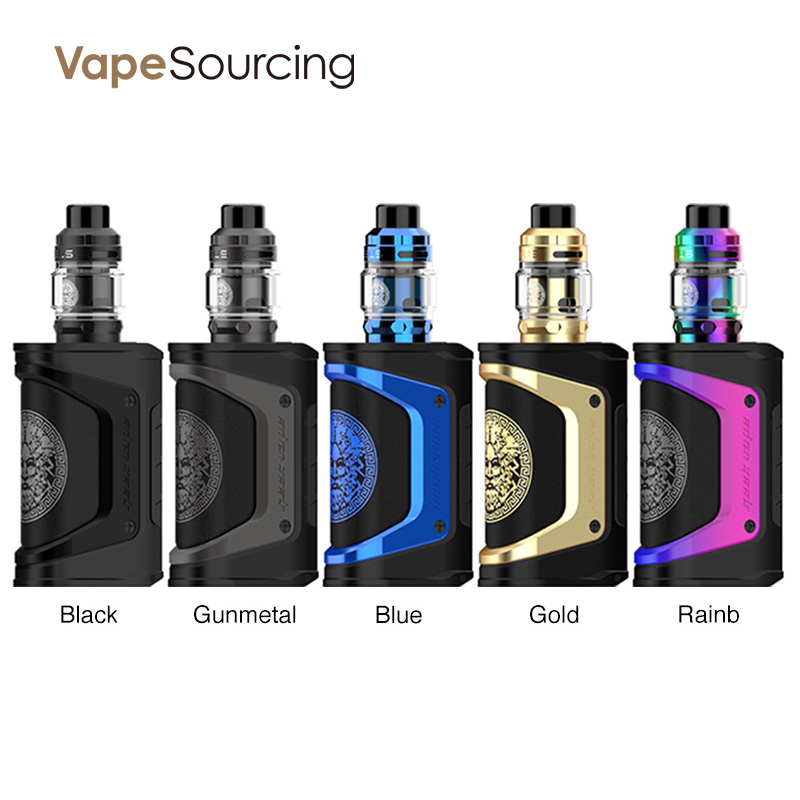 Made from magnesium alloy, Geekvape Aegis Legend Limited Edition is the lightest and strongest material in the world. This extra portability is accomplished without reducing the waterproof, shock and dust resistant design of previous equipment. The latest versions of the available colors include Zeus Blue, Zeus Bronze, Zeuskin, Zeus Black and Zeus Rainbow.
So what is the difference between him and the original Geekvape Aegis Legend?
Six materials
Six materials are included in the special edition of Aegis Legend. The top bezel is made of stainless steel, the body is made of lightweight magnesium alloy (we don't know if this model has LSR silicone finish), the grip is leather, the metal keyline around the grip is made of die-cast aluminum, the button is die-cast Zinc alloy, the bottom panel is made of 40 HRC carbon steel.
High-quality magnesium alloy and leather
As shown in the previous infographic, the device may be made of premium silicone, but we are confident that the grip is high-quality leather with beautiful stitching.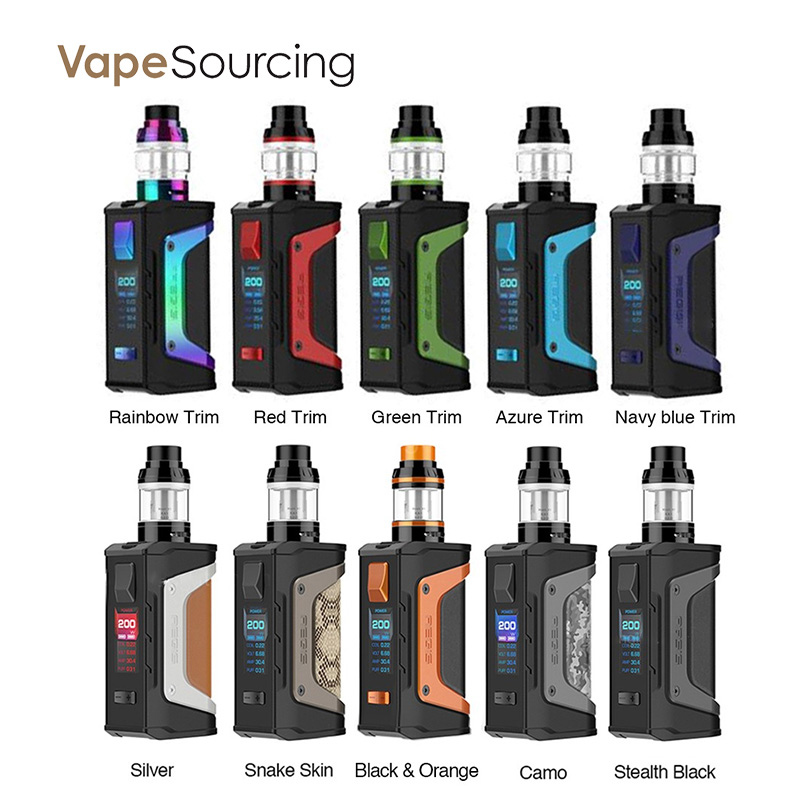 Color display
On the control surface, there is a full-color display with themes set to several colors, including blue and red. The user interface displays the current vape data vertically. Here you will see the current working mode, power, battery strip to track charge level, current coil resistance, current voltage, current amperage, and aspiration counter.
Dual 18650 battery, onboard charging and firmware update
Geekvape Aegis Legend Limited Edition powered by two 18650 batteries, they are positioned by opening the sliding bottom door. The micro USB interface allows the battery to be charged with lightning current, which is done very quickly. If Geekvape releases a new operating system, the USB port can be upgraded with firmware.
Advanced AS chipset
In terms of operation, the device is manufactured in the most advanced AS chipset, providing stable, fast and stable performance up to 200 watts. Modes include variable power, variable power curves for ramped atomization, temperature control with all standard heating elements, TCR mode for custom resistor settings, and bypass mode. This means that the Aegis Legend Limited Edition will work with most atomizers with resistances as low as 0.05 ohms.
Where to buy Geekvape Aegis Legend Limited Edition? Go to Vapesourcing online vape shop to have a look!
>You may also want:
geekvape zeus sub ohm tank price
>Related blog:
Look At Reviews About Vandy Vape Swell & Vandy Vape JACKAROO