As for Augvape, we may associate with the excellence and perfection. Today we will learn about one mod and one atomizer, all are from this passionate company.
The device was given a rectangular shape with beveled corners, resembling a smart phone with a very thick profile. The choice provided black and steel colors. The material for the body made zinc alloy. The fire button is located on the end. The opposite corner was provided with a button responsible for fixing the atomizer. The front panel with adjustment keys and a small display was placed behind a magnetic cover decorated with a geometric pattern. On the back side, the battery compartment is similarly hidden.
The device produces up to 150 watts of power. The board allows you to work in the mode or vari-volt. Voltage range from 0.5 to 6.5 volts. Powered by two 18650 formate batteries. Resistance varies from 0.05 to 3.0 ohms.
Augvape Druga Foxy Mod Specs
Size: 93x26x49mm
Variable Wattage or Variable Voltage
Battery: 2×18650 (not included)
Quick release design
9.2×5.2mm OLED digital display
Maximum output: 150W
Output Voltage: 0.5-6.5V
Resistance range: 0.05-3ohm
High-quality Zinc Alloy construction
Switchable IML panels
Gold plated brass 510 connector
The device arrives in a cardboard tube already familiar from other atoms of the manufacturer, this time a little larger. The device color mark is made in the form of a small round sticker, I have it black, but I would call the design of my tank more like a dark Gun Metal.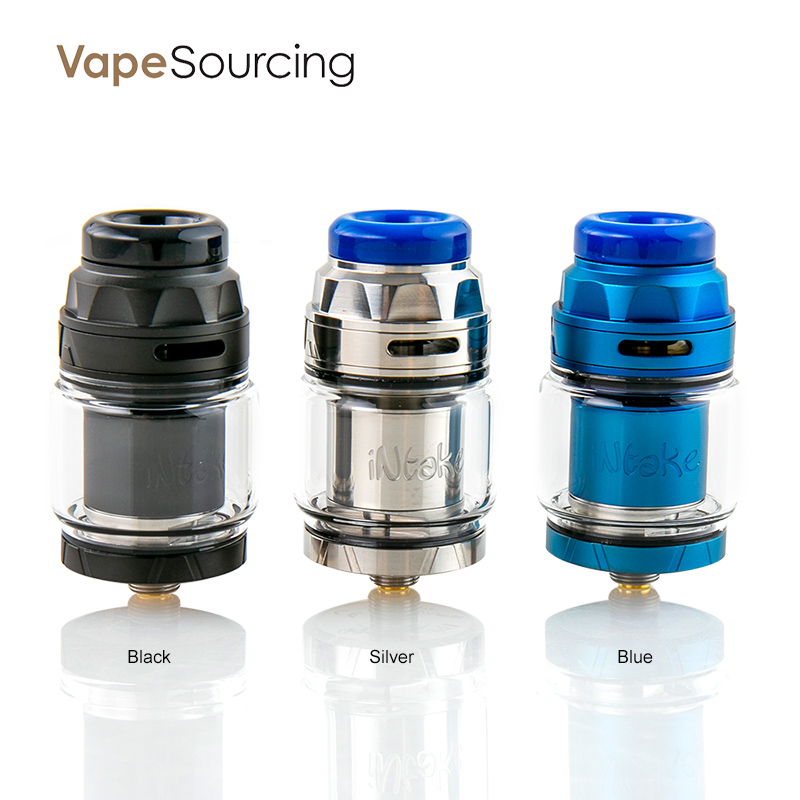 Assembling and disassembling the RTA vape does not cause any problems due to the relief at the base and the stopper on the ring. The upper part of the atomizer is not folding, you can only remove the cover and AFC ring, the rest did not work out for me. The flask of the tank surely rests on the top of one o-ringe, with a filled tank it is easy to get to the winding. To replace the installed bubble glass in the kit there is a straight glass, with which the Intake looks much more conservative, but it has a smaller volume – 2.5 ml versus 4.2 in a bellied flask.
Intake RTA Features
Diameter: 24mm
Height: 40 mm (with a drip tip – 45 mm)
Material: 304 stainless steel, glass, PEEK(insulators)
Volume with enlarged glass: 4.2 ml
Volume with straight glass: 2.5 ml
Single rack base, two massive racks with 3 mm holes
Upper air intake
Bottom helix
Adjustable tightening
810 connector
Adapter for 510 DripType
Gold plated pin
Is the Augvape mod or tank something you will be buying? Let me know your thoughts in the comments below!
Other article recommended:
VOOPOO Drag 2 Kit Review – The Latest Flagship of Big Smoke Kits